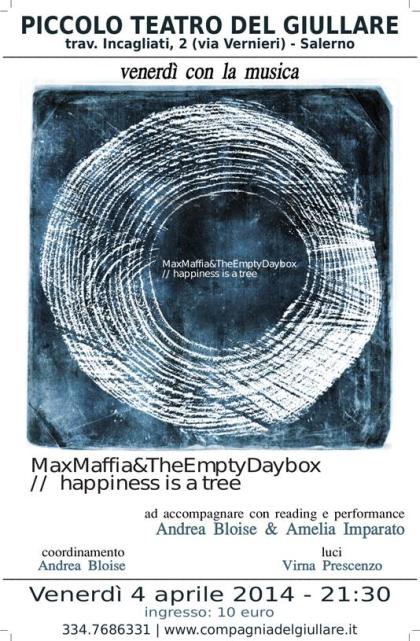 Secondo appuntamento con la musica al Teatro del Giullare.
Venerdì 4 aprile, ore 21:30, concerto dei MAX MAFFIA & THE EMPTY DAYBOX con l'album "HAPPINESS IS A TREE".
Ad accompagnare con reading e performance Andrea Bloise e Amelia Imparato della Compagnia del Giullare.
Coordinamento a cura di Andrea Bloise.
Luci di Virna Prescenzo.
Ingresso: 10 euro
Info: 334.7686331 | 089.220261 (2 ore prima del concerto) | compagniadelgiullare.it
MAX MAFFIA & THE EMPTY DAYBOX:
Max Maffia: Chitarra
Daniela Lunelli: Violoncello
Valerio Valiante: Chitarra
Alex Taborri: Percussioni
La formazione nasce nel 2009: Max Maffia, chitarrista salernitano, dopo aver militato in numerose band quali "The Peanuts", "Appesi a un filo", "Il pozzo di san Patrizio" e "Nicodemo" e dopo l'esperienza nel campo della discografia con la Daybox Records, etichetta indipendente di cui è fondatore, decide di voler proporre un repertorio di brani originali strumentali acustici insieme con musicisti di diversa estrazione.
Fonda "Max Maffia & The Empty Daybox" con Daniela Lunelli al violoncello, Valerio Valiante alla chitarra acustica ed Alex Taborri alle percussioni ed al charango.
La formazione propone un suggestivo set di ambient acustico e sapore mediterraneo che colpisce per qualità ed atmosfera creata.
Il progetto dà vita al primo lavoro discografico nel 2012: "Happiness is a tree" che esce su etichetta Daybox/Cd Baby il giorno 9/2/2012 su catalogo CdBaby e distribuito su tutti i prinicipali portali digitali (quali iTunes, Amazon, Rhapsody, EMusic, Last.fm, Napster).